Mark my words, a couple months from now we are all going to look back at Allyson Schwartz's vote for food stamp cuts as a turning point in the Democratic primary for Governor.
Liberals were having a very hard time making Schwartz's Third Way affiliation stick, because her identity and her zipcode (a Jewish woman from Philadelphia) do a pretty good job of pegging her as a liberal even if you don't know anything else about her. Lefties could say "Third Way" all they wanted and it was just never going to change voters' perceptions. The typical voter is just not really listening to online progressives – they're getting their opinions on the candidates from newspapers and from other politicians, and then from a few "political friends" they trust, most of whom are not obsessive online newshounds, but just people who watch MSNBC or read the op-ed page more than most.
What changes the campaign is that now other politicians have criticized the food stamp vote, and liberal media outside the blogs have branded it a key vote – a vote that Schwartz was on the wrong side of. We now have Bob Casey and Mike Doyle with pretty harsh statements out on this vote, and those are the kinds of opinions that move primary voters.
But even more importantly, the criticism of the vote from "approved" media figures gives permission to other reporters to write about the broader controversy. Liberals didn't like this vote from Schwartz – are there other votes they didn't like?
That's when we start getting stories like "Rep Allyson Schwartz Seen as a Liberal, But Ranks as a Moderate", and "Schwartz votes for farm bill supported by Gov. Corbett and GOP majority" with this dramatic photo from Jacqueline Larma: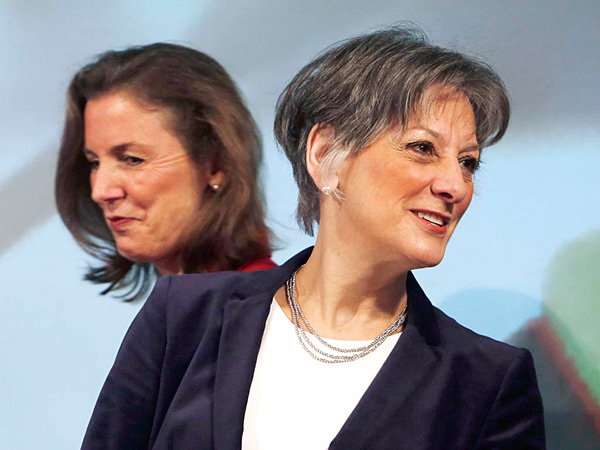 Despite being disgusting on the merits, the reason the food stamp cut vote was such a dumb move is that the political press wants to cover the food stamp vote in the context of the Governor race. The policy issue is boring but the electoral politics are very exciting.
Schwartz has opened up a whole genre of Governor race journalism that she really does not want at this point. The more politics writers feel they have a news hook to explore her conservative streak in the context of this vote, the more Democratic primary voters are going to realize there's no ideological or electoral advantage to picking Schwartz as the nominee.